Innovative Screen Printing Solutions Since 1980 – Introducing Victory Screen Factory
Victory Factory revolutionized the screen printing industry in 1980 by becoming the first company to specialize in pre-stretched screen frames by mail order. By delivering screens on time and professionally stretched, we eliminated the need for print shops to dedicate floor space to lumber and woodworking tools. Since then, we've expanded to offer a wide range of screen printing supplies, including plastisol and water-based inks, squeegees, chemicals, films, tapes, adhesives, and tools.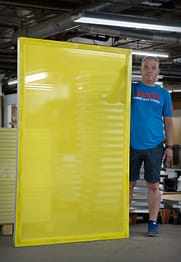 Our mission has always been service, innovation, and integrity, and our customers know that. We're excited to introduce Victory Screen Factory, formerly known as Victory Factory, under new management. Our expanded 10,000 sq. ft. facility in New York allows us to ship 25 stock sizes of aluminum frames and screen printing supplies across the country. Plus, our 24/7 online shop at victorysfactory.com makes it easier than ever to access our products and services.
Thank you for considering Victory Screen Factory – we're confident that we can help you achieve your screen printing goals with our innovative solutions and top-notch service.