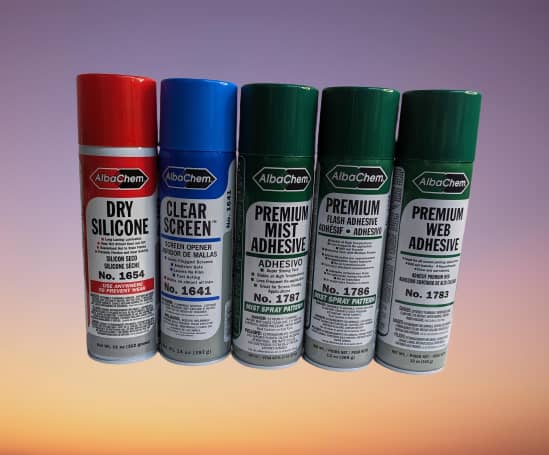 High quality screen printing sprays.
Adhesive Sprays
Screen Openers
Dry Silicone
$

7.89
Premium Flash Cure Spray Adhesive #1786 is the perfect solution to your industrial bonding needs. This stable adhesive can handle high temperatures and will not transfer, making it ideal for multiple uses. The unique mist spray pattern ensures that you get the right amount of adhesive, and it maintains tack with multiple flashes. Ideal for any industrial need!

$

9.15
AlbaChem®Citrus Screen Opener instantly unclogs any screen while still on the press. Dissolves most types of ink, fresh and old. It is made for use on photographic stencils or water soluble hand-cut film only. Instantly unclogs any screen Use while still on press Works on all types of ink, fresh or old Great for spot clean ups Leaves no film

$

7.39
Clear Screen Opener Spray # 1641 is a fast-acting spray that opens clogged screens with ease. Developed to be emulsion-safe, it won't leave a film on your screen and works on almost all inks. Make cleaning your screens a breeze with Clear Screen Opener Spray # 1641!

$

7.59
Looking for a strong tack spray that works for multiple substrates? AlbaChem Premium Mist Adhesive #1787 is a coarse mist adhesive spray that yields a super strong tack and low overspray. Ideal for screen printing, embroidery, and cutting rooms, it is high-temperature stable and free of chlorinated solvents. Get yours today!